Christmas Gift Ideas for the Pool Owner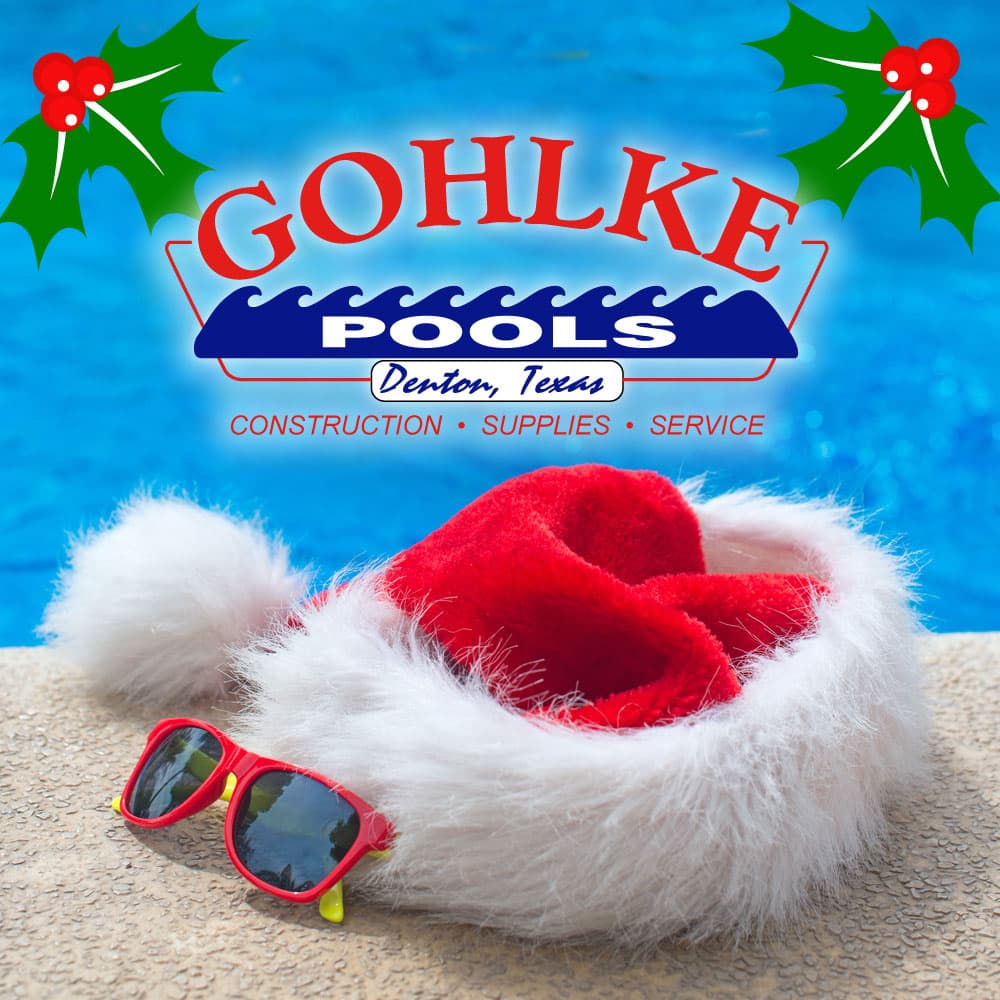 Are you having trouble deciding on a gift for that person that is difficult to buy for? You know, the person who has everything. One special way to honor that person is to make a contribution in their name to a worthwhile charity. Denton has many excellent non-profit agencies that could use and are worthy of your help, especially in this pandemic year.
Another gift idea for the "hard to buy for" is to think practical. Do they have a swimming pool? If so, then there are many gifts that can be given that can be used by the pool owner to help make their life more enjoyable. It seems that each year we are forced to buy something for someone that we are not sure that they will like or use, which can really make Christmas shopping an even tougher battle than it already is. Following are some ideas that the pool owner might like to find under their tree on Christmas morning.
Under $35
If pool items such as brushes, nets, poles, and other pool maintenance items are just not exciting enough for you – consider these options:
Polaris TailSweep Pro – The Polaris TailSweep is a simple retrofit accessory that prevents a Polaris pressure-side pool cleaner's sweep hose from spraying water out of the pool and splashing windows, walkways, and landscaping. In addition, it helps the cleaner's performance by increasing the sweeping action. www.polarispool.com
SkimPro Skimmer Basket – This is one of those products that is practical, especially for pools that seem to attract leaves. It is a skimmer basket with a tower, which helps prevent clogging, protecting the pump motor from being damaged by low water flow. In addition, it allows you to empty your skimmer basket without reaching into the water. www.skimprosolution.com
Adapt-O-Pole – This is a product that that turns your pool pole into something that you can use around your house for reaching high, hard to reach places. It turns your pool pole into a threaded-end pole, which fits many other household products. A great stocking stuffer, especially for pool owners who have two story houses.
Sucklebusters Spices and Rubs – Sucklebusters has a wide variety of award-winning spices, rubs & sauces for the BBQ nerd in your life.
$35 – $300
There are many pool-related items in the $30-$300 price range, from pool chemicals to basketball/volleyball games to ensolite floats to pool fountains. But following are some non-traditional pool gift ideas in this price range:
Automatic Pool Fill Devices – Very few pools are built with automatic pool fill devices. This can be inconvenient, especially if you have trouble finding time to put water in your pool, or if you go on vacation. A pool that is underfilled can cause pump problems as well as other issues. Fortunately, there are several aftermarket pool fill devices that connect to a water hose and operate while unattended.
Spa Caddy – For the Hot tub enthusiast who has everything! The attractive Spa Caddy is a safe and handy spa side tray for hot tub users to put smart phones, snacks, beverages. Swings toward and away from spa for easy access. Quickly and easily mounts to virtually any spa with just a screwdriver.
Saber Grill Accessories – From cleaning to cooking accessories, Saber has a wide variety of options available for the grill enthusiast in your family.
Towel Bar – is one of those deceptively simple products that makes all the difference in spa convenience. It holds towels a short distance away from splashing water and steam and conveniently folds flat against the spa side when not in use.
$300 and up
If you are the type that goes all out at Christmas, why not buy the pool owner one of the following:
Pool/Spa Controller – With the advances that have been made in technology, the pool industry has made some improvements in how pool/spas are now controlled. Pool owners can now control their entire backyard experience (pool/spa, lighting, fans, etc.) via smartphones, desktops, tablets. Due to how user-friendly and innovative they are, many pool owners have upgraded to these newer controller systems.
Saber Grills – Designed and built for discerning consumers who want an exceptional outdoor cooking experience, SABER is available only through outdoor specialty dealers. The SABER brand and its proprietary advanced infrared cooking system make owning a premium grill an affordable – and delicious – pleasure.
SpaUmbrella – This elegant, European-designed umbrella lets customers enjoy their spas regardless of the elements. Powder-coated 2 1/4 inch aluminum tube construction and premium Sunbrella® material make this umbrella both durable and stylish. Finally, an umbrella that performs the way your customers expect.
LED Lighting – Advances have been made with underwater pool lighting in the past few years. This has resulted in many pool owners upgrading their underwater lighting to this new technology. It truly can enhance the pool experience and completely change the backyard ambiance.
Automatic Pool Cleaner – Automatic pool cleaners are necessary for pool owners in the area – especially with the quantity of deciduous trees that we have in the Denton area. There are many different types and brands available.
Variable Speed Pool Pumps – As energy prices continue to be high, this product continues to gain momentum and is the pool pump of the future. With the dramatic utility savings of this pump, coupled with the quietness and controllability of the pump, it is easy to see why manufacturers and pool owners alike are excited about its future. There are several quality manufacturers of this product, among them include www.pentairpool.com and www.zodiacpoolsystems.com.
Ledge Lounger – The Ledge Lounger line of in-water furniture allow you to take your pool area from the level of enjoyable to extravagant. They have a full line of products made to be in the water and under the sun, giving your backyard pool a resort feel. www.ledgeloungers.com
Weekly Pool Service for the Summer – This speaks for itself and can be a godsend for a pool owner who has limited time to care for a pool. The Denton area has several quality pool service companies that would be willing to help you provide this gift for the pool owner in your life.
Hot Tub – A hot tub can be the perfect gift for the pool owner who has everything. Everyone enjoys the hot tub experience, whether it's relaxed family time or a fun gathering with friends. There are many qualities of hot tubs as well as many different options available – and the cost of a hot tub can range from several thousand to nearly $20,000.
These are just a few suggestions of the many products available for those pool owners who can be difficult to buy for. Of course, if you do not know what to get the pool owner in your life, you can always give them a gift certificate so that they can pick out what they want. Call us here at Gohlke Pools – we will help you in any way that we can.
Happy Holidays!